T-shirts are loved by all. Your most casual cloth is a T-Shirt. Having a customized T-Shirt is not a rocket science either. Anyone can get themselves into a heat press printing business and profits out of it. This printing provides not only T-Shirts but, mugs, plate, cap, button all of these things can be customized.
If you're a lover of T-Shirts and want to make something for yourself, start with a heat press printing business. All you need some plain T-Shirts. Here, read why you should buy it from an authentic place like DIY Printing- 
T-Shirts printing will satiate your desire and will give you an opportunity to earn some extra income.
So here we present the 10 amazing Tv series T-Shirts for your convenience.
1. If you have watched Friends, you must know this line by your heart.
2. Sheldon invented this into rock, paper, and scissors.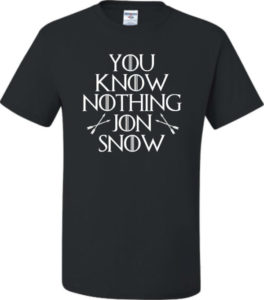 3. A well-known line from everyone's favourite GOT.
4. The popular quote of Dean will be on your T-Shirt.
5. Although finished admit it, Teen wolf still entices you.
6. Get yourself a Breaking Bad T-Shirt and drown in the feels.
7. It's ok to support Stefan and Damon together. Just go for the Salvators.
8. Gear up for this season and wear this T-Shirt.
9. Don't miss out on Grant Gustin in Flash.
10. You will certainly not fail your city if you wear this T-Shirt.
So, you see the amazing designs you can choose to make your customized T-Shirts.